Flowers are blooming, the weather is warming up, and us humans aren't the only ones feeling it and getting spring fever. Your dog is probably just as excited as you about finally being able to go outside and enjoy the fresh air. Spending time with your little furbaby is an essential part of your relationship, and with these fun spring activities to do with your dog, you can get the most out of this lovely season together. 
From a walk around the neighborhood to hitting the road together, there's no shortage of ways you both can get out of the house. Here are some ideas for spring activities to do with your dog. 
#1. Take A Walk
Yes, we know, taking your dog on walks is just part of being a dog owner and ensuring that your furbaby stays happy and healthy. But during the spring, you both get the opportunity not only to exercise and get out of the house, but also to admire all the flowers and greenery. With so many new and exciting smells, walks during the spring give your pup so much to sniff and explore! 
Just be sure to keep your pup away from the shrubs and flower bushes, especially if you don't know whether or not the plant is toxic to dogs. If you need guidance on what plants are and are not dangerous for your furbaby, your vet is happy to help.
#2. Go On A Hike
Walks, elevated! One of the best spring activities to do with your dog, especially if you're outdoorsy and your pup has energy to burn, is to hit the trails. It's important to keep your dog close, as hikes can have wildlife and poisonous plants along the way. The view at the top is always worth the journey to get there, and even if you turn around part way through, you still got to go on a little adventure with your furbaby somewhere new and exciting!
#3. Visit A Beach
Whether you live inland or by the coast, there are plenty of dog-friendly beaches by lakes and oceans alike. The long stretch gives your dog space to frolic and run and stretch their legs, and if you're convinced they may have been a fish in another life, they'll love the opportunity to splash around in the water. 
This is one of the spring activities to do with your dog that's best saved for warm days, so you can more easily dry your furbaby off. Make sure you pack towels to make this easier. Always ensure to check that the beach you go to is pet-friendly and that you follow the rules, for the safety and enjoyment of you and your dog, as well as anyone else who visits the beach!
#4. Have A Photoshoot
Do you prefer more lowkey spring activities to do with your dog that don't involve any physical activity? This time of year is perfect for having a little photoshoot with or of your pup! Most of us already take 50 million pictures of our pets all day everyday, no matter what they're up to. Why not have a photoshoot with all the flowers and greenery in your backyard or local park or another dog-friendly outdoor space? 
You can grab a tripod and utilize your phone's self-timer, enlist a loved one to take pictures, or hire a professional photographer. Or if you'd rather your pup be the star of the show and to stay out of the pictures, you can take them yourself. Pictures are memories and moments captured to look back on forever. And what a pretty time of year to capture the beauty of your dog too!
#5. Go On A Vacation Together
With all the holidays and breaks around this time of year, why not take your furbaby with you on your spring vacation? We have an entire blog about tips for traveling with your dog that you can check out here. Going on a road trip or vacation with your dog definitely takes a lot more planning and preparation than if you left them with a sitter, but it can be more than worth it and an excellent way to create memories together. 
#6. Hit Up The Dog Parks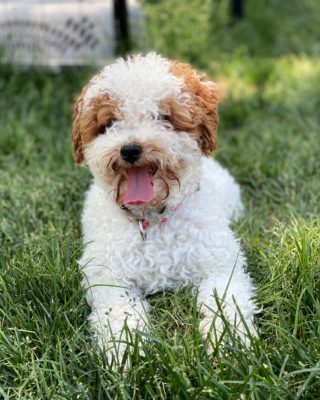 Dog parks are a fantastic way to let your dog off the leash and socialize with other dogs in an approved area while they soak up sunny spring weather. Just be sure to keep an eye on them, in the event that any interactions with other dogs start looking like one or both dogs are getting scared or aggressive, so you can intervene and keep the dog park a fun place to be.
These are just a few fun spring activities to do with your dog! No matter what you do, you and your furbaby will love the opportunity to get outside together. Little Teton Doodles is happy to provide you with tips for more activities you can do with your furbaby. Just contact us!