Goldendoodle puppies come in all sizes, colors, and temperaments. Which ensures that you can obtain the puppy of your dreams! We strive to provide well behaved, beautiful puppies that families and individuals can love and cherish for years to come! Goldendoodles are consistently one of the most popular dogs in the world, due to their loveable personalities and their family friendly temperaments. We love these dogs and we know that you will too! Our priorities are great health, even calm temperament, and adorable puppies.
What are Goldendoodles?
A Goldendoodle is a cross between a golden retriever and a poodle. The two breeds were chosen carefully to complement one another. The poodle was chosen for its curly, hypoallergenic coat and the golden retriever for its pleasant disposition and a strong sense of loyalty. Both are highly intelligent breeds, ranking in the top 5 of the most intelligent dogs. Therefore, you'll be getting much more than just a dog, but a new family member for life.
Recent Litters
Goldendoodle Sizes
Micro Golden Doodles
5 – 10 lbs
These tiny 5-10 LBS puppies are ideal for small apartments and city life, because they require less space than larger varieties.
Teacup Golden Doodles
8 – 15 lbs
These sweet puppies are still small enough for travel and apartment life but their size is great for little kids and family life.
Toy Golden Doodles
13 – 25 lbs
Do you need a hiking or running companion but live in the city? A toy Goldendoodle is the size for you.
Mini Golden Doodles
20 – 35 lbs
Looking for a great dog that can handle whatever you are doing but aren't so big that they can't fit into your apartment? Consider a mini goldendoodle to meet your specific requirements!
Medium Golden Doodles
30-45 lbs
Great for homes that want a doodle but don't want an extra-large dog, this is the dog for you!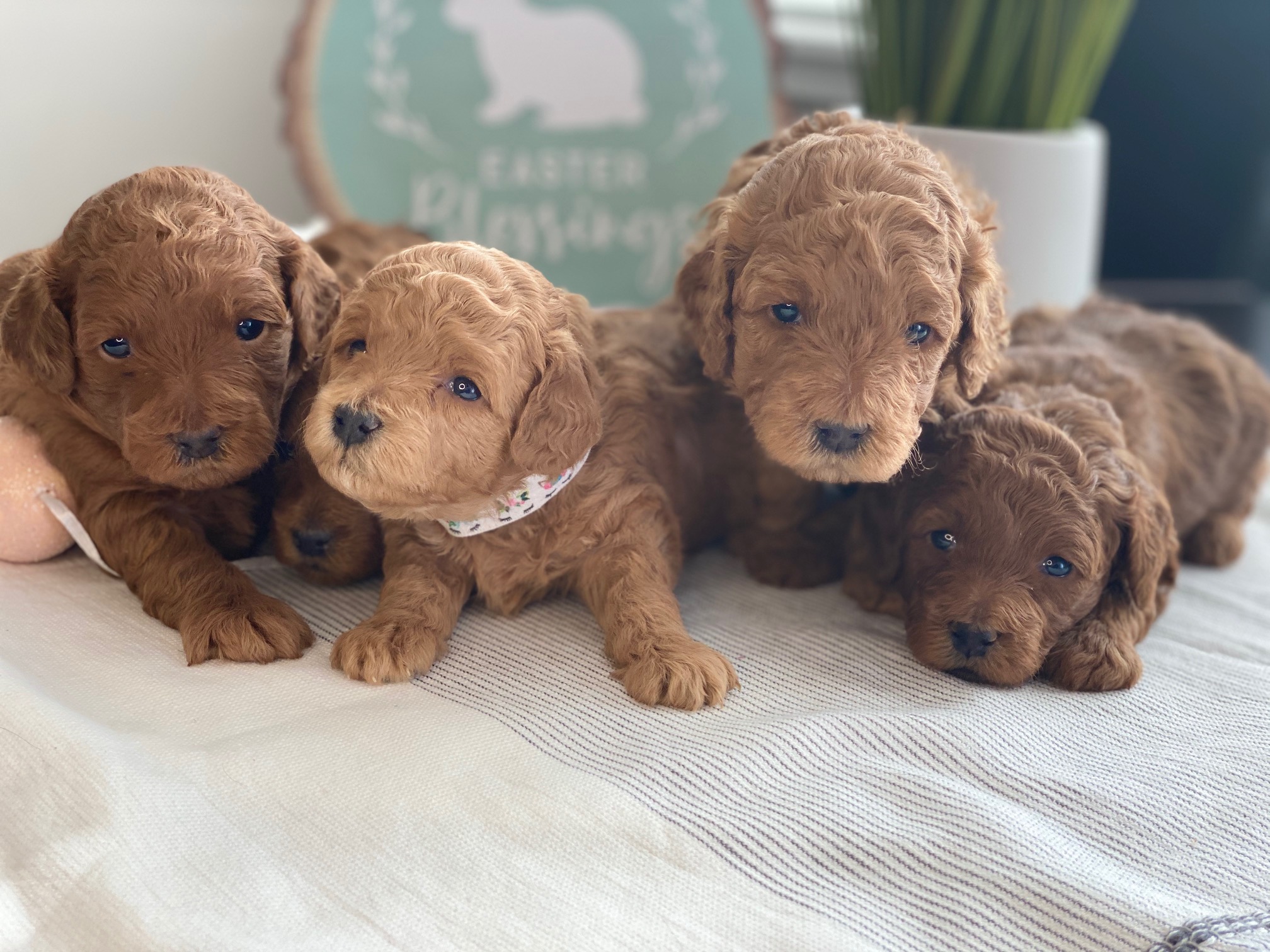 Goldendoodle Generations
Golden Retriever x Poodle = F1 (50% Golden Retriever & 50% Poodle)
F1 x F1 = F2 (50% Golden Retriever & 50% Poodle)
F1 x Poodle = F1B (25% Golden Retriever & 75% Poodle)
F1B x Poodle = F1BB (12.5% Golden Retriever & 87.5% Poodle)
F1B x F1B = F2B (25% Golden Retriever & 75% Poodle)
F2 x F1 and below = Multigenerational
Goldendoodle Qualities and Health Expectancy
It is important to keep in mind that every dog is different, but understanding general qualities and health expectations can help you to make the best decision where your lovable companion is concerned. This is why we require health testing for each of our parent dogs to avoid potential health complications. 
Penny & Little Bear Teacup Goldendoodle Previous Litter